Donald Duck made a screen debut with " The Wise Little Hen" released on June 9, 1934. And the film's release date of June 9th is officially recognized as Donald's birthday by the Walt Disney Company.
Donald 's "Happy Birthday to Me" event was held at Tokyo Disney Resort from June 7 to July 7. And new merchandise, menus and decorations appears in the park for this fun event. And they are limited time released.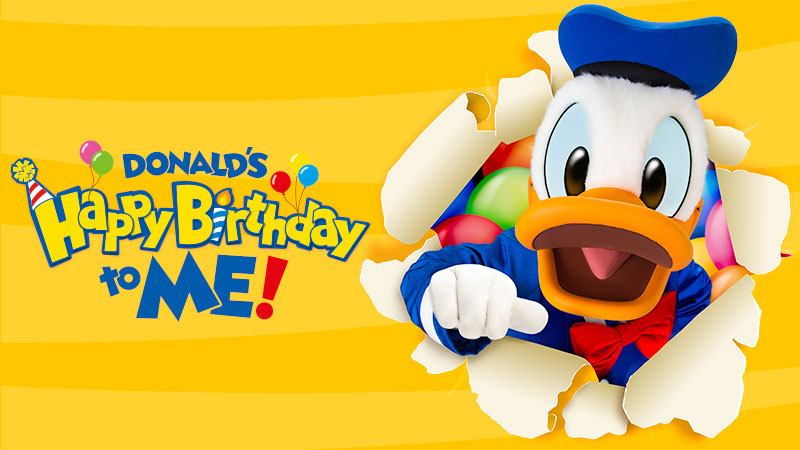 The decoration is very colorful no matter inside or outside the stores. And Mickey's house is arrived the park for Donald's birthday. And Donald write notes for all his friends.
"Hi Mickey,
For my birthday, please lend me your car. I want to take Daisy on a romantic drive!"
"Dear Minnie,
Did you know that I love pancakes? A mile high stack for my birthday. would make me really happy!"
"Hi Goofy,
Let's plan a fishing trip for my birthday and catch the biggest fish in the sea!"
"Chip'n Dale, If you're thinking of giving me a present, how about giving me a break instead?"
Donald's Birthday Popcorn Bucket (available in the parks until Sept 2 while the supply last)
This is one of my favorite popcorn buckets. It is a two layer birthday cake with strawberries, whipped cream and yellow ribbon look frosting. And Donald is happily on the top of the cake. The lanyard is blue stripe with Donald's foot print and sailor motifs. Happy Birthday, Donald!!!! This is a must-have item for Donald's fans.
Donald's Birthday Plush Keychain Badge
Size: Length about 20 cm
Donald's stuffed toy badge wears a birthday cake hat and hold a birthday cake with his favorite sailor cap as the cake toppers.
Donald's Birthday Pin
Size: length about 4.5 cm × width about 4.5 cm
Donald's Birthday Button Badge
 Size: diameter about 8.5 cm
Donald's Racing Car 2018 (Tomica)
Size: 3.5 x 6.7 x 3.6 (cm)
Special version appears at Tomica Donald Motif of Disney Vehicle Collection!
It is a cool racing car.
Besides of these limited time released merchandise, the following Donald items are available in the Tokyo Disney Resort:
Search "Donald" and you can find more.